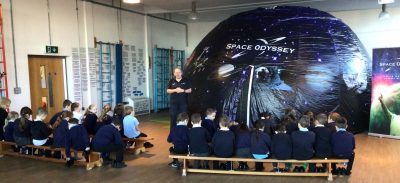 The children across years 1-6 had an amazing experience today. We were delighted to be able to welcome Simon from Space Odyssey back to the school after a prolonged absence.
A huge thank you to all of you who supported the Space Dome with your donations. These are hugely appreciated as it would not have been able to happen without you!
The children in year 1 are studying The Moon as their topic focus and so got a first hand, up close view of the Lunar surface, as well as some beautifully presented explanations of how and why we see the phases of the moon. Year 2 are finding out what lies beyond the planet they live on and are exploring the solar system, searching for life and wondering, dreaming, imagining and envisioning their potential futures as members of a species which spreads itself out across the cosmos!
I wonder what we will find out their when we get out there?