Hello all, 
I have reached a point of excitement where I can barely contain myself now, I am just looking forwards to seeing you all so much! 
The main focus of our time together in school will be communicating! A chance to catch up with friends and adults at school, share stories of your recent experiences, talk about interesting games/apps that you have found, ask questions and talk about the coming weeks.
Therefore, this week's focus for all tasks is going to be vocabulary – the root of all communication!
Monday:
Literacy: Watch the 10 minute challenge on Authorfy, set by Sibeal Pounder (Author of Bad Mermaids and Witch Wars). In this challenge, Sibeal asks you to create your own animal mash-up and gives tips and advice on how you might do this.
Reading: https://www.worldofdavidwalliams.com/elevenses/
Have you listened to David Walliams recently? He is still broadcasting a story at 11 O'clock each day (which you can listen to online at any time).
Maths: This week's theme is vocabulary, so in maths I am suggesting you think in-depth about a select few words that we use in maths on a regular basis.
Today's suggested words are: Property, Boundary and Relationship. To show that you understand what these terms mean in a mathematical context, can you create an image the explains the word? Give an example to show what the word means? Give a definition in words?
I would love to see posters/flash cards to show these words. Each day that you guys are in school with us this week, we will have a look at the words together and create something to remind us what these words mean.
Tuesday:
Using your animal mash-up from yesterday (or one you found and really liked online!) create a mind map of interesting words you could use to describe your mash-up pet.
Here is my example: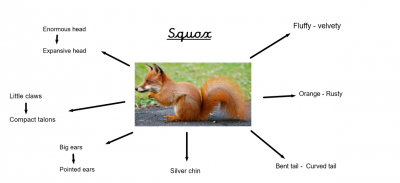 Reading: Note down the most interesting word from your reading book today. What made the word interesting? What does the word mean? Can you think of a synonym for the word?
Maths: 
Look at the mindmaps for the mathematical terms. Write as many words as you can think of that relate to this subject. Draw as many images/representations you can think of that relate to this subject. Then give some examples to prove your understanding of the word.  Maths Vocab Mindmaps
We will be on Prodigy at 11:00 each day this week.
Wednesday:
Literacy:
Can you turn yesterday's descriptive words into sentences about your mash-up pet?
The squox peered out of his burrow, his pointed ears alert to any sounds.
Life was challenging for the squox, for she was regularly toppling over from the weight of her expansive head.
Reading:
Wild horses reading comprehension Wild horses Reading activity – questions from page 2 today, please. 
Maths: 
Keep going with your maths vocabulary posters from yesterday! Maths Vocab Mindmaps 
Thursday:
Literacy: How can you describe the character of your mash-up pet? Complete a new mind map showing the personality traits.
e.g. Friendly, affectionate, amiable, well disposed
Jumpy, springy, athletic
Reading: Wild horses reading comprehension (link above) – questions from page 2 today.
Maths: Challenge someone at home to a game of 'strike it out' on NRich.
Friday:
Literacy: Can you create a poster/information page about your mash-up pet? Or maybe a 'David Attenborough' style video where you pretend to be observing your mash-up pet in its natural habitat?
Reading: Read your poster/information page/script through before presenting it to a parent. Think about the formality of your writing – does it fit your target audience?
Maths: 
Prodigy at 11:00 to battle your friends? 
timestables.co.uk/speedtest                        Coolmath4kids.com
As always, if you have any questions or need any additional support/resources please get in touch via the school phone number or the 'submit you learning' option on the website – you can use this to send us an email. 
Hope to see you all soon, 
Miss Shopland