Over the past few weeks, Year 5 have been enjoying some really exciting swimming sessions – everyone has had something awesome to say about the three sessions that we have enjoyed so far! Check out what everyone has had to say below!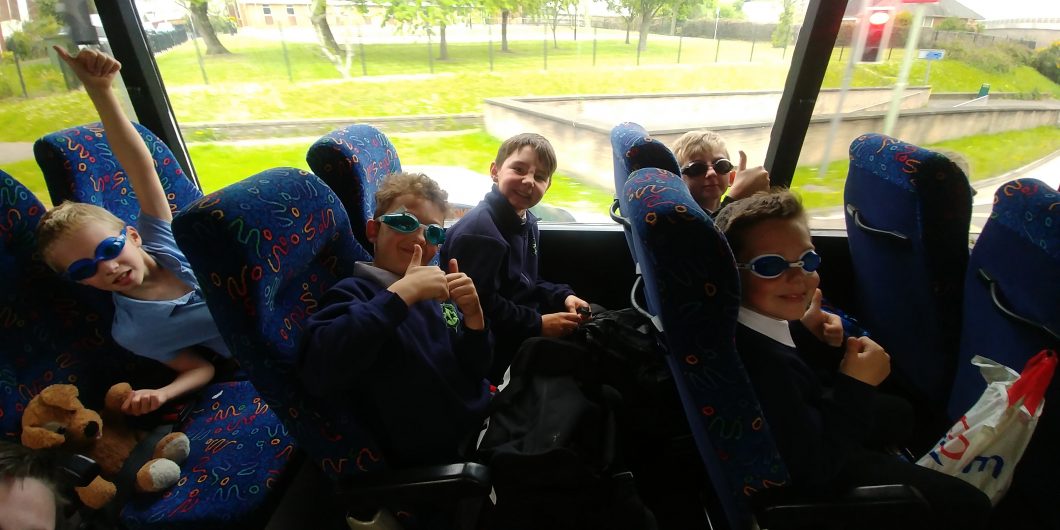 Skye: I enjoyed it when me and Lexi got to swim on our backs without floats.
Jamie D: Swimming with flippers because it was really easy and really fast
Kai: Putting on the flippers
Nunez: I enjoyed when we got to jump in the deep end.
Ayesha: I enjoyed all the encouragement from other people as they were all shouting my name and cheering me on.
Liam: I really enjoyed learning how to swim with the flippers. It was my first ever time and it was really fast.
Katie: I am looking forward to going into the deeper bit of the pool. Even if you can't swim, it's ok.
Mia: I enjoyed learning how to swim like an octopus.
Chloe-May: I really enjoyed swimming with other people in the pool and encouraging them.
Chloe: I enjoyed learning new skills that I didn't know I could do.
Corey: Our group were doing it with one float and swimming with one arm.
Finley: I like being in the pool with my friends, using the floats and flippers and cheering on Ayesha.
Sophie: I enjoyed being in the deep end.
Ebonie: I enjoyed being with my friends and doing something that I love.
Brandon: I lost my flipper, so swam back and said, "I've got a problem…"
Ruby: I was the fastest swimmer in my group with the flippers!
Jack: I enjoyed rescuing Brandon's flipper.
Amelia: I enjoyed watching Liam jump in because he belly-flopped.
Rio: I liked swimming really fast with the flippers.
Bethany: I enjoyed being able to go swimming with my friends and swimming without a float.
Charlie: My three favourite parts were using the float and the noodle, swimming on my back and play time.
Harvey: I enjoyed being in the deep end because I had to dive deep to rescue Ayesha's flipper.
Nicola: I enjoyed learning how to swim with my friends and helping Aimee because she has never been swimming before.
Leo: I've enjoyed swimming with Jack and Corey.
Jamie M: I really enjoyed going really fast with the flippers on.