What a busy week!
It has been so wonderful welcoming so many of you back and hearing about some of your Home Learning last week. Remember you can share the amazing things you have been doing through the website, I always love to see the things that you have been doing. 🙂
This week is due to be a wetter week (particularly on Thursday and Friday) so we might want to explore some more indoor activities.
Word of the week: merge. What does it mean? Can you share a sentence using the word "merge" with 3 other people?
Today we continued to explore pointillism using Primary coloured (red, yellow and blue) paints to create dots. We experimented using different sized dots using paint brushes, cotton buds and wooden sticks. We then tried using different coloured dots close together to mix the colours. When the colours merged together, they created new colours! If you have paints at home, have a go!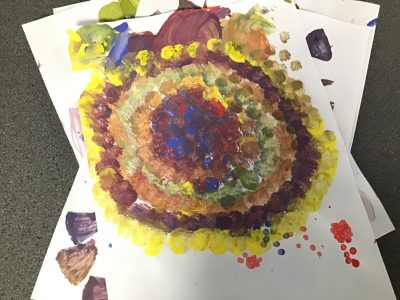 Find out what happens when you mix…
Red and yellow?
Blue and red?
Yellow and blue?
Continue to use Bug Club for reading and phonics activities. Continue to use your phonics flash cards to practice your phonemes. Remember, in your red book there are different phonics games you might like to play.
Use Phonics Play on your devise to enjoy games such as, Obb and Bob, Burried Treasure and Dragon's Den.
Practice reading and writing your Set 5 Words handwriting tricky words. Have a go at using the words in a sentence (don't forget your alien grip!).
Continue to access BBC Bitesize daily maths lessons at https://www.bbc.co.uk/bitesize/articles/z693rj6
Have a go at grouping things around your home into 2s. How many groups do you have? How many are there altogether?
Is there anything in your home already grouped into 2s? How could you count them quickly?
Measure your bean plant. How many centimetres tall is it? If you can, send me a photo 🙂
Have a go at the Other Fun Activities page on the website and have a go at some of the different craft ideas.
Have a lovely week!
Miss Hall 🙂