Good Morning!
It is the start of another week in these unprecedented times! This week's focus to keep your brains growing and bodies active is Glorious Gardens and Captivating Creatures!
Monday:
Today's suggestion is to research some different minibeasts. The BBC Bitesize link below gives you some information to watch about minibeasts.
https://www.bbc.co.uk/bitesize/topics/z6882hv/articles/z9fkwmn  There are two further activities if you scroll down further, a fill the gap activity and a quiz.
You could apply the learning we have been doing in class on word meanings when investigating the minibeasts in your garden/on your walk. Minibeast etymology Here is an example chart I have created, you could complete this any way you like, drawing your minibeasts or completing on a computer.
You may want to use this activity card to guide you in setting up some traps to leave out tonight (the traps won't hurt the creatures!) Discovery card 1 – catch your own minibeast
Tuesday
Today you could have a look in your traps set yesterday and find out which creatures are living in your garden.
Have a go at researching or talking to your family about the creatures you have found and the environments they thrive in. Could you design a home for the creatures in your garden that provides them with everything they need?
https://www.rspb.org.uk/get-involved/activities/give-nature-a-home-in-your-garden/garden-activities/build-a-bug-hotel/ The RSPB website has an excellent guide to building a bug hotel at home,
If this one is a little extreme for you and your garden, here is an alternative: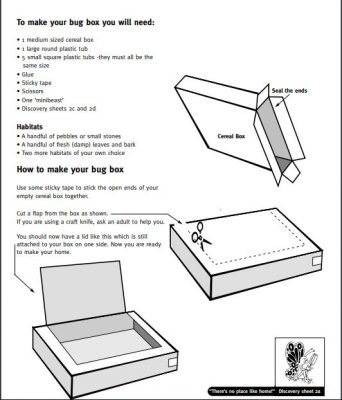 Alternatively today, you could use the RSPB website to find out which types of birds you can see from your window/garden/whilst out getting some exercise. https://www.rspb.org.uk/birds-and-wildlife/wildlife-guides/identify-a-bird/
You could create a tally chart or bar chart to record the types and frequency of birds you see.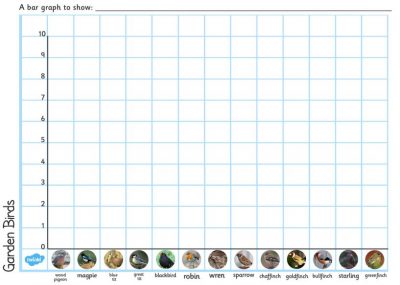 Wednesday
Today I was thinking it could be really interesting to design your own minibeast or bird species. Based on what you have found out so far, what would a creature need to be successful in your garden/the habitat you have observed them in? e.g. Do they need to camouflage in a particular colour plant/flower? Do they need anything in particular to catch their prey?
You could also think about the role that creatures have in the environment. How could your creature help? Could it protect certain species of plants? Scare off unwanted pests? Help to provide food for other creatures? Create nutrients for the soil?
When naming your creature, think about the word etymologies you will have researched on Monday. The main features of your creature will probably appear in the name, but likely in Latin or Olde English form.
The resources you use to design your creature are entirely up to you! I know some of you are fantastic on different computer programmes, some of you are amazing artists and some will prefer to describe the creature in words rather than drawing/creating. Arthur and I will be designing some new creatures with the playdough we made together yesterday so I will upload some photos in the week if I can.
Thursday
Today's suggestion moves on to classifying plants. This is a formal way of saying grouping plants based on something about them e.g. if they have flowers.
First, you will need to have a look for all of the different types of plants in your garden/on your walk. Then you will need to create your own way of grouping the plants. I have an example that you could use or adapt to fit with your environment: Plant classification chart
You could also use the BBC bitesize website to watch videos and complete activities based around plant classification:
https://www.bbc.co.uk/bitesize/topics/zy66fg8
Once you have completed this for the plants in your environment, you could transfer the learning to a subject of your choice! e.g. Can you classify the snacks in your cupboard? Your favourite sweets?
Friday
Complete a presentation on your favourite creature/animal from the week?
Design your dream garden? Design your invented creature's dream garden?
Consider how you could improve the environment of the creatures that are currently in your garden?
Can you link this week's focus with any of the previous learning activities you have completed? Is your food waste bin helping any creatures? Could you invent a new device to help wildlife in your garden? Can you create a song about a minibeast?!
As always, If you have any questions or need anything else from me please don't hesitate to contact me through the link on the website (you con't have to upload learning!)
Miss Shopland
Additional Resources: 
Literacy:
Environment literacy based activities.  Plant vocabulary       Year-5-6-Spelling-list      Minibeasts Wordsearch
Maths:
Times Tables charts    Prodigy Maths – I have been setting some specific questions to focus on certain areas of maths.
Are you confident in telling the time? In digital and Analogue? In 12hr and 24hr?
Tally charts and bar charts of the creatures you see this week are an amazing use of maths skills!