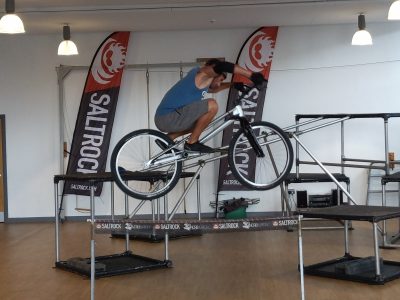 Andrei Burton, a world-class trials-biker, visited our school today to provide our children with a heart-pumping performance. We watched as Andrei did things on his bike that defied gravity and left us all amazed by what he was doing. To top off his performance, he invited an unsuspecting Mr Hankin to the front. He got a real close-up view as Andrei jumped his bike over him several times! Check out this video…
While Andrei was performing, he talked about the importance of practicing and being resilient. His message to the children was keep doing what you love and eventually you will master it like he had.
Check out the photos below – don't miss the special slow-motion video of Andrei jumping over Mr Hankin!
Thanks for coming Andrei!
Lexi and Aimee asked members of our class for their thoughts:
I liked the way Andrei Burton was so close to the children watching when he did all of his stunts. Nicola
I liked when he rode up the towers and jumped on one wheel. Ayesha
I liked it when he jumped across the ladder of death and when Mr Hankin nearly got run over. Ebonie
I enjoyed it when he did stunts. Charlie
I liked it when he nearly ran over Mr Hankin. Amelia
I liked it when he jumped on the ladder of death and nearly ran over Mr Hankin. Leo
I like the fact that he is very talented. Ruby
I held my breath all the way through, especially when he started jumping over Mr Hankin! Thank goodness that wasn't me! Mr Worth 
I learned that you don't need to be good at something to have fun. Harvey-Jack
I learned that it is hard to do stunts on a bike. Brandon
We learned that anything is possible if you always try and try again. Lexi and Aimee