Hello everyone!
What a lovely day we had yesterday with those whose turn it was to come into school. The children enjoyed some cooking activities and playing in and outside. Forest school was the most popular choice of favourite activities!
We cooked cookies and made apple crumble. Here is the recipe for apple crumble if you would like to try this at home. The children were encouraged to cut up the apple safely and to make the crumble enjoying rubbing in the flour and butter with their fingers! This recipe only makes a small quantity!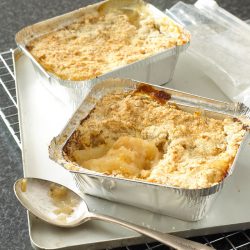 Apple (or fruit) Crumble 
Ingredients:    1-2 Apples(or other fruit)                   Flour: 2 table spoons                                  Sugar: 1 table spoon    Margarine: 1 Table spoon        Small foil tray
Method:    Wash hands
Cut up the apple into small pieces and place in foil tray
Add butter and flour to the bowl
Rub these together with your finger tips
Add the sugar and mix in
Pour onto the apple
Bake for 20-25 mins until light golden brown 180c or gas mark 6
Joyful June activity: Wednesday
Be good to yourself give yourself a treat. What will you choose to treat yourselves mums and dads?
Maybe to sit and quietly read a book or magazine without any interruptions!!
How did you get on with the challenge yesterday to make a nest?
Today at Forest school the children loved creating potions to turn the grownups into goonies and zombies! Can you create a potion at home. You will need some water and items from the garden to add to it: grass, petals, leaves and even mud! You may also need to make  wand to create the magic for your potion to work! Words you might use mixture, potion, spell, abracadabra, mix, stir, mystery and magic! Go on have some fun!
Today's story is called "Meg and Mog" by Helen Nicholl and Jan Pienkowski
What does Meg use for her Spell??
We wish you all a very happy Wednesday
Mrs Penn, Mrs Heap and Mrs Coleman