Hello all!
It feels so good to be communicating with you all again, I miss our year 5 team!
Over the holidays, I have been looking at lots of different ways to set you some fun and interactive learning that keeps your brains growing whilst allowing you to make the most of your time at home with your amazing families (and hopefully more of this sunshine too!). I would love to hear some feedback on the learning set, this will help me to make sure we are all using our time wisely. 
So, for today…
Literacy:
This week's Literacy learning continues with our Journey Through the History of Magic Literacy text. Please google the Wizarding World of Harry Potter ( www.wizardingworld.com ), set yourself up an account (you will need an adult to help with this) and have a look at the different activities you can complete. I started with the sorting hat because I just could not resist and am proud to say that I am a Hufflepuff!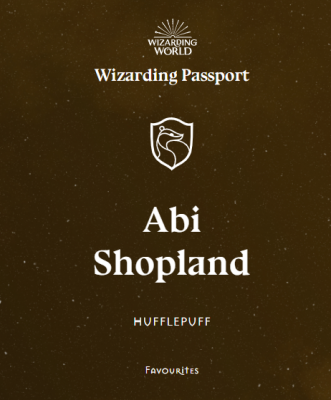 If you scroll down on the home page, at the bottom you will see: Explore the wonders of the Harry Potter: A History of Magic exhibition at home. Through this link, you can read lots of information from within the text and learn about things such as 'how to study like a Wizard', 'Magical creatures through the ages' and 'skills for a modern wizard'.
Maths
https://central.espresso.co.uk/espresso/primary_uk/subject/module/video/item316102/grade2/module316055/index.html
Following us starting to look at negative numbers together in class, please watch the above videos on Discovery Espresso and then complete the Golf scores activity. It will help you out to draw yourself a number line from -10 to 10 so that you can add and subtract numbers to calculate scores. It will also be helpful to re-watch the video once you have the task in front of you. Negative numbers golf scores
I would love to receive an email of your learning if possible; this could be through an edited document that you send back to me, answers on a new document or photos of any learning completed on paper. If you are struggling to find a way to access the resources and complete tasks, please send me an email through the upload link at the bottom of the Haytor View website page.
I would like to give a special mention to BB for the amazing progress he is making with his Prodigy Maths Account! I would also like to give a huge well done to those of you who have completed the place value assessments that I set, your scores are fantastic!
Reading
Please make sure you are remembering to read every day, even if just for a short time. These strange times are giving a wonderful opportunity to get fully 'stuck into' your texts.
Look after yourselves, stay safe and have fun! 
Miss Shopland