Hello Everyone 
Well yesterday was SUPER HOT. I was inside most of the day but when I drove home my car felt like an oven…. SO HOT. I wonder if you spent time outside in the sun having fun?
I had three different Zoom sessions yesterday and I have learnt that the best number to have on zoom is 1 or 2 so that I can really talk to your lovely children. (That was my learning from yesterday.) Your children have so much to share, to show and to talk about that I want to make sure that I give them all the same opportunity.
Watching you on Zoom shows me how much you have all grown and your confidence to talk via a computer is brilliant. 
Thursday is supposed to be another HOT DAY. I have planned water fun and bubbles in school and decided WATER FUN and mixing could be your challenge at home as well!
Look at this experiment where the colours mixed … Their mum stated that they LOVED this milk and food colouring experiment ...
What beautiful coloured patterns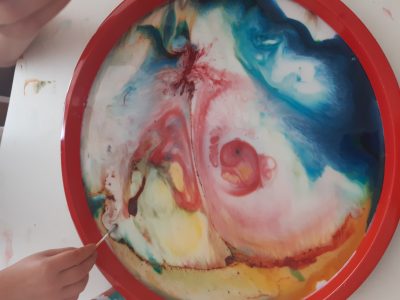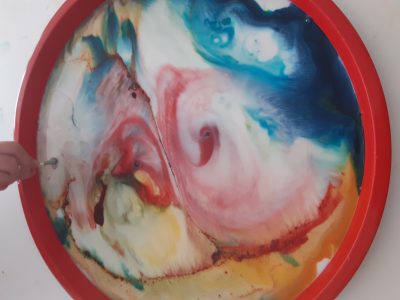 So today's challenge is mixing but on a bigger scale!!!!! 
Bubble Mixing Experiment ( FUN!)
You need a Big container – Anything you have from washing up bowl to plastic box.
Handheld Whisks

Washing up Soap

Optional – food coloring

Optional scented oils – you could use strawberry or lemon or a melon food scents 
You could add food coloring and scent, but it is not necessary!! Whisking bubbles is enough!
Start with a small amount of water because the bubbles will be created quicker
Can you make the bubbles reach the top of the bowl or box? 
You might need to ask your sister or brother to help!!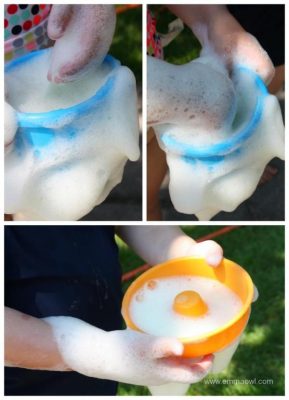 You can make foam cakes!!!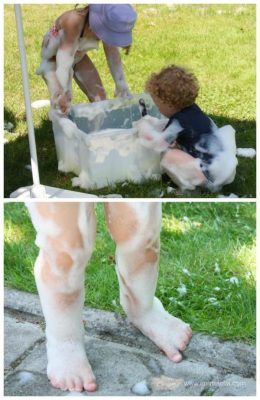 You might even wish to get into the box!!! 
I will let you know how messy I get tomorrow with our mixing and  I REALLY look forward to seeing your pictures of Bubble Mixing and Bubble Fun in the Sun. 
The big red bath story with loads of bubbles ………
See you all soon. Keep Safe Miss Butler, Miss Lofthouse and Mrs Breakwell.