Hello everyone!
Wow what a hot day yesterday was! We welcomed some children into the Foundation Unit and they had fun playing outside doing some gardening, making a clay pot, creating a number 20 bus and enjoying Forest school especially loving a water fight!!
Joyful June Wednesday:
Eat food that makes you feel good and savour it?  
What will you choose?? Chocolate maybe~ can you suck it until it disappears?  An ice cream~ which flavour will you choose? In a cone or a tub? Will you choose a lovely piece of cheese?? There are so many feel good foods adults and children treat yourself to something you especially like today!
As the weather is so hot at the moment I think a fun time with water might be in order!!  Remember you need to drink water a lot on a sunny day so fill your favourite bottle and take it everywhere with you!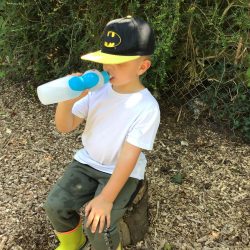 Now how about trying some fun activities:
 Paddling pools are fun especially filled with bubbles! But all you need is a bowl of water with bubbles and you can wash your toys, wash your toys clothes and then make a washing line to hang them on!
Have a water fight but only use very small containers who can get the wettest or stay the driest?
Explore items in from around the house in bowls of water: will they sink or float?
Use natural items in the water
Make potions or have a tea party with your toys
Grown ups freeze some items in containers and then the children need to use toothbrushes or cotton buds with a gentle touch to try and release them!
You will have so many of your own ideas please send us some photos of your water fun!
Below are some ideas to inspire you!
Today's story needed to be a story with water as it's theme so I have chosen "A pig in a Pond" by Martin Waddell
We hope you enjoy a lovely sunny Thursday. We are looking forward to some zoom video calls this afternoon!!
Mrs Penn Mrs Coleman and Mrs Heap