Hi everyone
Yesterday was meant to be one of the hottest days of the year and today is looking like it's going to be a rather toasty day too! If you are heading out to enjoy the sun, don't forget to wear your sun protection and drink plenty of water.
I know that many of you have been travelling out to the beach and other places this week while the sun is shining so you might have adapted some of the website activities. Remember you can always revisit posts from different days to fit with your home learning.
Some activities you could do today:
Keep logging onto BugClub and completing the different activities and book.
Have a look at the map of Newton Abbot. Yesterday you explored the key on the Decoy map that told what the different symbols were. Today as you are looking at the Newton Abbot map, have a go at making your own key for the different symbols you can see. Can you see any roads? A nature reserve? A church?
If you out exploring different places or having a day at home, why not have a go at creating your own treasure map? First you need to think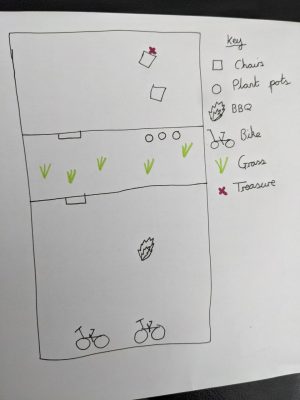 carefully about what your treasure might be and where you are going to hide it. Then draw out a map of where you have hidden your treasure. I have drawn a map of my garden and have used a key to show some of the key parts so the person finding the treasure can spot them on their search. When you give your map to someone, you might want to give them clues by using words such as, underneath, beside, on top of, near, inside, behind… Can you find the treasure on a map made by someone in your family?
Keep active but keep safe in the sun by drinking plenty, spending time in the shade and wearing sun protection.
Check out BBC Bitesize for today's maths comparing mass at https://www.bbc.co.uk/bitesize/articles/z428wty
Word of the day: mass. What does the word mean? Can you use it in a sentence?
Have a great day, I look forward to seeing you soon!
Miss Hall 🙂