Good morning everybody
We hope you enjoyed your day yesterday! We had a super day with some children making crumble, and playing outside in our garden and at forest school. Funnily enough these children enjoyed making potions at the muddy kitchen for us all to try did you try making potions at home as well?
This afternoon at Forest school Kieran had the idea to make a stick man. He found some sticks and Mrs Breakwell helped him to attach them with string and he added some googly eyes!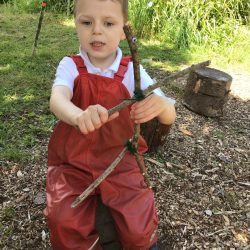 We thought that you could make a stick creature yourself! You will need to collect some sticks and possibly add eyes and clothes. You can tie the sticks with string or pipe cleaners, you may choose to use some mud and mould it into a creature adding leaves and flowers as eyes! When we created our garden compost at home I made a compost mud creature to watch over it! The following images may inspire you to try and make a creature. 
Take a photo and send it to me I love to see them!
Joyful June daily challenge: Thursday
Send a photo to someone who might need cheering up!
Today's story has to be "Stick Man" by Julia Donaldson and Axel Scheffler.
A note for the nursery children who have not been able to join us at school Miss Butler has began to set up and make some ZOOM video story sessions. We would like to do some too! So I will phone and email you inviting you to join us for a story and a game some time next week!
Have a super Thursday
Mrs Penn, Mrs Heap and Mrs Coleman