The situation we all find ourselves in has meant we have had to do things differently. Nothing is 'normal' and so we all need to grow and develop to be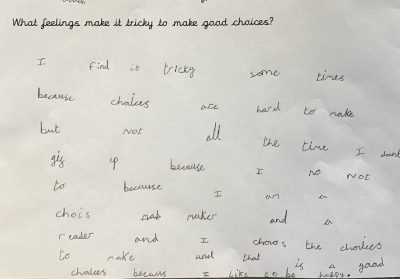 able to make sense of and find our way through this situation together. This has meant a lot of hard thought, work, effort and commitment to doing what is needed to be successful in this new way of doing things and not just ignoring it and carrying on as if nothing is going on around us.
We have been focusing on giving the children a real sense and understanding of themselves, as human beings and of their unlimited potential as learners. We want them to feel safe and confident in facing the challenges life present, so it was a true joy to read this, written by one of the 7 year old children in the class, all by themselves in a Time to Think session.  Reading this made me realise that I am proud of what we are achieving. Everything we do, we try to do to the best of our ability and because we care, try hard, and are willing to learn from our mistakes, we tend to do OK.