We spent a lovely assembly thinking and sharing decisions we would want to make during the day that would not only keep us safe, but make us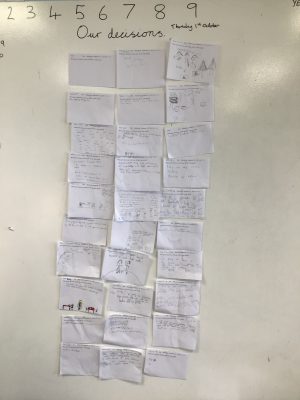 happy when we noticed ourselves doing them. My favourite was 'I am going to sit on my chair properly.' as who would have thought simply sitting on a chair would be able to be the source of pride, satisfaction and fulfillment.
We reviewed what we had noticed about us making our choices at the end of the day and were able to recognise that when we exercise our power to choose, it brings us positive feelings.
Some people's decisions had been based around other people;'I will help those who fall over,' but no-one fell over so they were not able to notice how making a positive decisions made them feel!