Good Morning.
After a busy week I hope that you all had a restful weekend and engaged in things you love to do as a family. Saturday turned out to be a super sunny day making the colours in my garden sparkle in the light.  Today's challenge links to last weeks colour exploration.  I continue to greatly value and get excited when you send me some photos of your active learning.Thank you. 
Look at these photos…..I LOVE THEM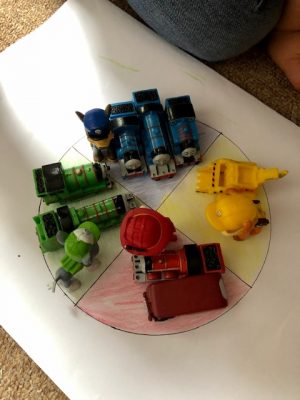 A colour wheel created using toys, Wonderful idea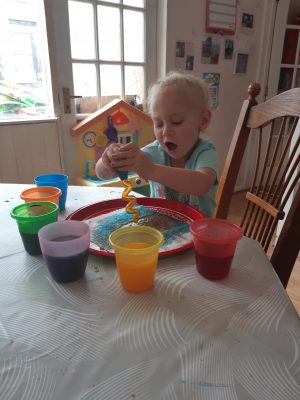 What a FABULOUS PHOTO! Just look at the joy in learning expressed all over her face. FANTASTIC. 
Today's challenge is a science experiment which allows you to explore colour mixing at the same time. All you need is a disk, milk,  food colouring, washing up liquid and a cotton bud. ( I suggest that you turn off the sound on this video,  I think the music spoils the images.) I could not find a video without too much discussion about the chemical reactions!!! not necessary as the active learning will allow your child to just observe and watch the reactions of the different liquids. Enjoy the experiment.
Last week I loved being able to start our Zoom Story Sessions. Every child in F1 should now have been sent their date and time this weeks session.
Please do let me know by phoning the school if you have not yet received your access code and password. 
Remember you can bring something to share with us all, a toy, something you have made or something you found on a walk or adventure you had with your family. 
See you all soon in school or via Zoom Miss Butler, Miss Lofthouse and Mrs Breakwell.