Hello Everyone…. Good Morning It's MONDAY
It was definitely a birthday weekend for my family with two of my nephews celebrating their special days. I also know two girls in our class had their birthday on2 Sunday…Happy Birthday to you two…both 5 yrs old now.
.

The plants in my garden are growing and GROWING!  I wonder if your plants are also growing fast and strong? 
I wonder if you are noticing how more things are growing when you are in your garden or on you walk or trip out?  It lovely to see that more of you have been learning to press flowers. Flower pressing can take a long time for some flowers to dry out.. The pictures are always impressive.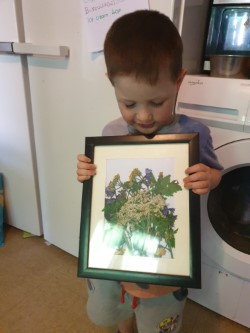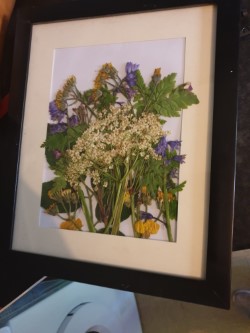 The flower imagery looks so impressive when added into a frame. 
If you have not yet tried to print and dry out flowers…Try it's easy and all of you need is 2 pieces of kitchen roll and a couple of heavy books. Enjoy and create  your own beautiful pictures.
  Over the last two weeks I've challenged you to draw and make spirals to strengthen your fingers and create snails.

This weeks I wonder if you can continue this skill of making spirals but instead of a snail you could use the spiral to represent a flower… or something else!

Did you manage to explore cotton bud painting?

look at these lovely dot exploration.
I know some of you might not have paint at the moment but when I was silk painting this weekend I recalled another way that you could paint without paint but instead using food colouring.
Its very similar to the butterfly prints you can make folding paper with paint but this time you don't need paper but

KITCHEN ROLL!

1st Ask your child to fold the kitchen roll (That is a hard skill !)

2nd Add water and colouring into mini pots or saucers

3rd carefully dip the kitchen roll into the food colouring. 

4th Open and lay the kitchen roll out, on paper to dry, you can hang it up if its not too wet!

WATCH THE VIDEO BELOW AS A DEMO…..
Today's story is a particular favourite of mine… Amanda's Butterfly by Nick Butterworth, Enjoy.
Have a lovely day and look carefully and see what you can find outside in you garden or on your walk today. Keep Smiling and Keep Safe Miss Butler,  Mrs Breakwell, Miss Lofthouse.