Hello Everyone!
We hope that you were able to enjoy the beautiful sunny weather this weekend? Our dog Ollie loved a really long swim in the sea on Sunday morning but I did not join him!!!
Did you manage to male some ice cream at the weekend? if you did not make your own were you lucky enough to have an ice lolly or ice cream at the beach, park or shops??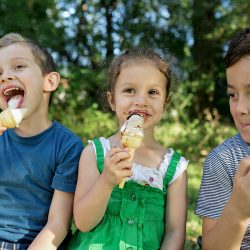 Did you have ago at making up a poem like the one I posted? 
I scream
you scream
we all scream for
Ice Cream
If you did maybe you could email it to me??
Mrs Heap and Ching,Ching have been busy again. They made star biscuits and if you click the blue writing you may like to have ago at making these at home: (there are 3 sheets to view!)
Stars from afar with Ching Ching
This is the last week we will be meeting together on a Tuesday and Wednesday. We have  had so much fun meeting up and enjoying each others company. It has been wonderful to see you playing with each other safely having so much fun inside and outside. 
We hope that you will continue to to so this week.
You may choose to do some gardening, or to play with the mud kitchen, or perhaps to create a puppet show, enjoy water play, tell jokes, paint and finally finish your clay pots creating a box to transport them home safely!
I have decided to upload two stories by the author Chris Haughton: "Oh No George!" and "SHH! We have A Plan" Shh is read by Chris Haughton. Enjoy them both:
We hope you have a good week whatever you choose to do? I will post again on Thursday. 
Take care and keep safe
Mrs Penn, Mrs Heap and Mrs Coleman