Hello everyone!
We hope that you all enjoyed the weekend together?
No snow which was a disappointment but we wondered if you managed to make some ice to explore?? Did you create a story as you played in the ice??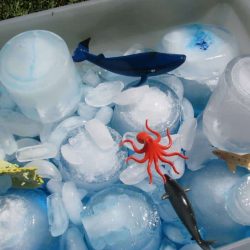 I managed a couple of chilly walks with my dog Ollie and he actually went for a swim in the sea! Here is a rhyme for you to join in with about some swimming ducks!
At school we have been giving the birds some seed and bread as they find food hard to find when it is cold! Maybe you could put some bird food in your outdoor space? Bread, seed, apple or you could thread some Cheerio like breakfast cereal to hang up. Threading items is a great activity for developing so many skills like counting, creating patterns and developing fine motor coordination skills.
Our story today links to the rhyme and is: " 5 Little Ducks "  by Ian Beck
We are still trying to let you know your google class room log in. Do please upload any photos of what you are doing at home and we can share these with your friends!
Thank you
Mrs Penn, Mrs Heap and Miss Ansett