This week the children used the blocks outside to create spaces where we can play.
They made a police car complete with blue lights! A small group worked together to move the blocks to create this enclosure.
Another group of friends used crates to make a police house across the garden and then a lovely game developed where the children chased each other to capture the "baddies" and take them either to the police car or the police house.
The space provided a safe area for a child to draw a picture of the story. His picture included the police car with lights and a picture of the baddie!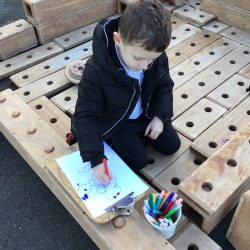 What will the children make next time?