Good morning everyone!
Aplologies for the lack of posts over the past week but our website had a bit of a hitch which did not allow us to upload pictures etc for you to view and this was out of our control but we are all fixed now I hope?!!
From next week I will only be adding  a new post for you to view on a Monday and a Thursday. We have taken this decision because of the time we are working in school with groups of children and also offering zoom video story sessions!
We hope that you have been able to enjoy the time at home and possibly taken the opportunity to meet up with family members you have not been able to see over the past months? We have had a lovely time in school loving spending such fun times with the children and enjoying seeing some of you on a Zoom video story time!.  Here is a flavour of some of the activities we have been enjoying in school:
The children liked the opportunity to cut fruit to make their own kebabs and ice cream. Interestingly some children found opening and peeling their own banana quite a challenge! Over the weekend let your child help you prepare some of your meals: cutting vegetables, peeling fruit and even opening some packages with your support of course! All these skills are vital to develop independence skills and developing fine motor control and hand strength! 
 Mrs Heap brought Ching Ching into class on Wednesday to help make ice cream .
When Alfie saw him he said "Wow! it's Ching, Ching, he's on my mummy's phone and now he is here!"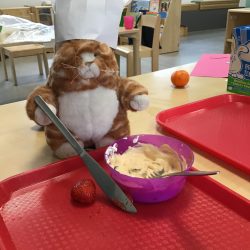 Here is Ching, Ching and Mrs Heap making ice cream. Why don't you try this at home this weekend! Click the blue writing to see the recipe        Ice cream dream with Ching Ching
Enjoy the following story together: Olivers Milk shake by Vivian french
Could you help make a yummy, scrummy tip top tasty milk shake this weekend or make some freezy ice cream
I just found this Ice cream story for you to listen too:
Here is a little poem:
I scream!
You scream!
We all scream!
for ice cream!
Could you make up a poem about something you like?
Have a lovely weekend
Mrs Penn, Mrs Coleman and Mrs Heap
PS: Please make sure you have read all the letters about returning in September. If you can not find them on the gateway app or on the website or you need something explained please get in touch by phone or email!!