On Tuesday this week, the children in year 1 and 2 teamed up in mixed year teams to take on a creative challenge project.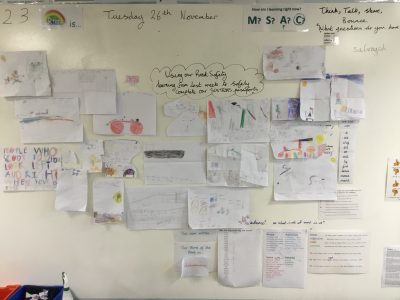 The challenge they were set was to create something which would help someone who was doing the same SUSTRANS project as them to do it safely.
The SUSTRANS project is looking at supporting and encouraging healthy and environmentally friendly ways of getting to and from school as alternatives to driving a car. Last week was road safety week, so it seemed to make sense to bring the learning from last week into this week so children could really develop a clear picture of how to get from A to B safely.
The ideas they come up with were great and the safety messages were clear, even for those who are still coming in a car!
"Hold hands with an adult when you walk to school."  "Look both ways when you cross the road on your scooter."  "Make sure you are wearing a helmet when you ride a bike."  "Wear your seatbelts." "Don't distract the driver."