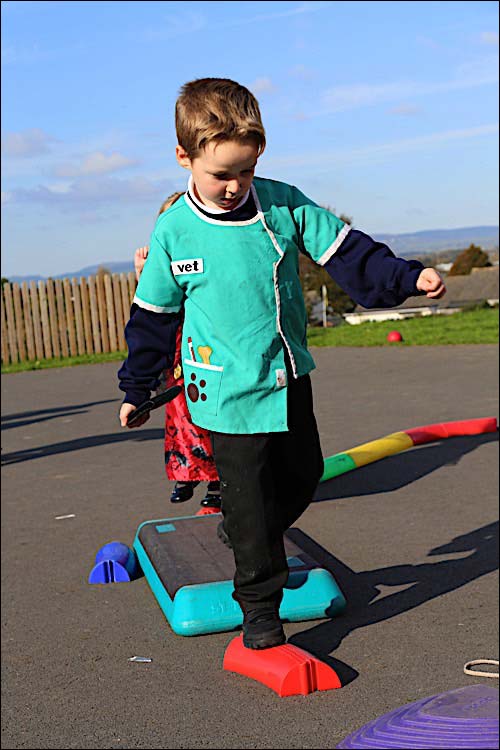 The development of current curriculum at Haytor View began in 2016 when the school published its 'Curriculum Core Offer'. This was developed in response to the Report on Assessment without Levels (2015), published by the government, which signalled a change in approach to assessing children which our, still relevant, Curriculum Core Offer, sought to address.
The school's Core Offer seeks to define the nature of children's independence at a number of levels, as well as providing four key outcomes which underpin the experiences of everyone engaged in the school. These are:
• Every child sees themselves as a learner
• Children will collaborate in all contexts
• Every child has comfort with who they are
• Parents share and enjoy in their children's lives
The Core Offer was updated and supplemented in March 2019 when the school shared two documents that sought to define the Wave 1 provision that children and parents can expect from the school. Wave 1 provision represents those experiences that every child or parent has in relation to their engagement with school day-to-day.
The Core Offer and related documents did not detail what children would learn (knowledge and skills) and when they would learn it (progress) – this is the job of the school's curriculum. Whist the National Curriculum offers statutory guidance to support this, it is the school's responsibility to shape our curriculum to meet the needs of our children and families, reflecting the school's Core Offer.
The school's curriculum is constantly under review as we seek to develop it to the needs of our children and families. Since 2017 the school has developed and reviewed annually, through dedicated Non-Pupil Days, it's provision for the teaching of Reading & Phonics and Maths. These developments, and the school's current approaches are reflected in two documents:
> Teaching of Reading and Phonics – Overview
> Teaching of Reading and Phonics – Statement
> Reading Spine – Framework for Reading Aloud
> Statement on the Teaching of Maths
In recent times the school has developed a defined curriculum beyond the core subjects mentioned above. With reading a priority, as this is a skill that 
enables children to more independently access the wider curriculum, the school team have developed and defined a curriculum from Years 1 -6 that we believe meets the considered needs of our learners and makes strong links with the learning and development that takes place in the school's Foundation Stage (Nursery and Reception). This manner in which this curriculum is delivered reflects the school's Core Offer and Wave 1 provision documents highlighted earlier.
The school's curriculum is reviewed regularly at the end of each unit of learning so that consideration can be given to developments that may be required based upon the experiences gained through teaching and assessing outcomes of each unit. By way of summary of the school's broader curriculum from Years 1-6, as well as in the Foundation Stage you will find overviews below that highlight the key focus for units of learning that each child experiences.  An overview of the curriculum in the Foundation Stage is also provided.
As well as finding links on this page to the documents described above, there are further related links to 2017 Ofsted Report, most