Good Morning The sun was really shining again on Tuesday and we spent a lot of time outside, playing tennis and building with tyres but DEN'S also became a huge interest again.  Have you made an outside den this week to give yourself  shelter from the wind or sun or built a new inside DEN?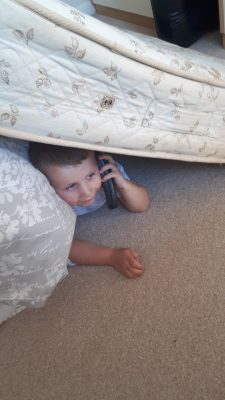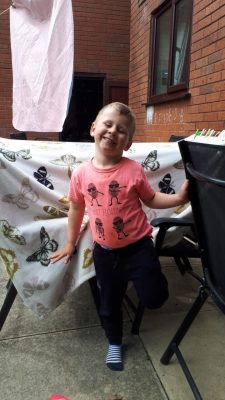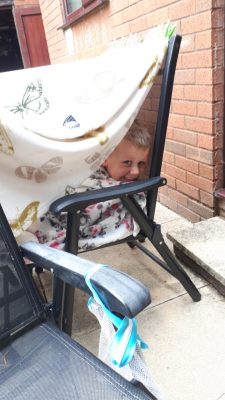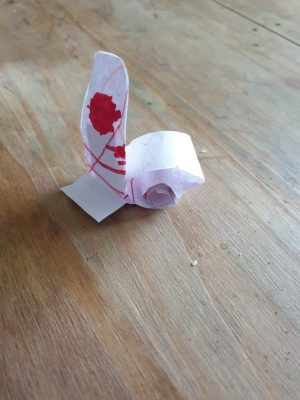 This is the first paper snail I have been sent. Yes!! he's standing up and has a cool curly shell. I wonder if he has any other friends out their that you have made this week?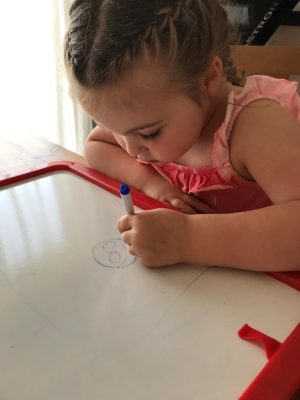 Another wonderful concentration photo …Your interest in drawing is showing how much your finger strength skills are developing as you explore your imagination.  I wonder what else you can draw and make? 
Another way to explore your finger strength is to paint with a cotton bud because the section to hold onto is very narrow
You could even add the swirls we have been learning about into your pictures.. Keep exploring the different ways which you can strengthen your fingers but also have FUN. 
I know cooking is still such a strong interest for you all and an activity that covers so many skills. Just look at the concentration being demonstrated in this photo…. Brilliant. My Baking has not worked during my last 3 attempts….I need to keep trying practicing and learn from you all. I'm currently exploring how to use coconut flour!!! Its not working well at the moment…I will let you know If I find a recipe that works.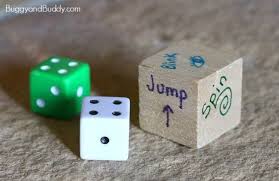 Have you got a dice at home in any of your family game… Have you used it to play physical Challenge games together? I wonder if you could challenge your sister, brothers and parents to move in different ways matching the number that you throw on the dice. Today in work I set a challenge for two girls and  they managed to jump over a masking tape line, 30 times  before falling onto the floor telling me they were now tired!! 
I wonder what Physical Challenges you would create?  
Enjoy your Fine ( finger) and Gross ( whole body)  physical challenges today? You might be exploring this inside or outside OR while you cycle OR cook., there are so many different ways in which you can explore your physical skills. HAVE FUN.
This is a story you might remember that we explored at school, F2 children …………..??
                         DO YOU REMEMBER PUTTING YOUR FEET into THE PAINT? 
Keep Smiling and Stay Safe Miss Butler, Mrs Breakwell and Miss Lofthouse.