Good Morning
We hope you enjoyed the long weekend! The weather was so lovely warm and sunny we hope you all managed some time outside on a walk or perhaps riding your bike or scooters? Like me, I think some of you had a BBQ our first this year and we sat outside in the garden to eat!
I have enjoyed receiving some messages from you and looking at your photos. It seems that as ever you have been so busy!
Alfie sent me a photo of his pressed flowers the next stage is to arrange these to create a picture. I will try to do this with my pressed flowers today. Did you do this ?Are your flowers ready to create a picture?
I hope you enjoyed the story" We're going on a bear hunt" on Friday? Did you create a bear hunt for your family to follow? Brooked has been hiding her dolls in the garden and her mum has been finding them? Can you hide some toys that your family has to find? Remember you need to remember how many toys must be found and also where you hid them!! It might help you to use an egg box or a grid to count them back.
Listening challenge! Can you recognise the following sounds that you might hear in the woods?
On my walk yesterday I spotted a duck with some ducklings.  I counted 9 ducklings! The mummy was quacking at them to keep them swimming with her.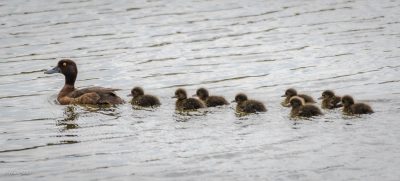 This of course reminded me of the song 5 little ducks went swimming one day. Please join in with the video!
We hope you have a good Monday.
Mrs Penn, Mrs Heap and Mrs Coleman
Update: we did send some of your pictures to Captain Tom for his 100th Birthday! He got so many!