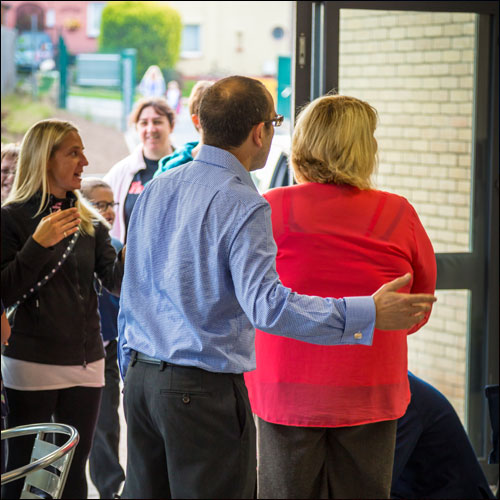 Student inclusion
At Haytor View an ethos of respect and inclusion is cultivated which promotes the learning and development of each child. We are committed to providing high quality education for all our children. We believe a rich, challenging and stimulating curriculum should be available to all children.
We aim to:
> Recognise that all children are entitled to access opportunities which challenge and stimulate them;
> Foster a love of learning for all children;
> Work in partnership with parents and supportive agencies;
> Develop and maintain an inclusive approach to education.
We believe that all pupils are entitled to opportunities that foster and extend learning and enable them to:
> maximise their potential in a variety of safe, enabling environments and settings;
> Achieve increasing success, personal fulfilment and improved outcomes;
> Develop enlightened relationships with peers and adults valuing their own and others' achievements working independently and collaboratively;
> develop responsibility and independence as a learner;
> become confident life-long learners fostering a love, passion and enjoyment for learning;
> use their abilities to contribute to the whole school and wider community.
All members of the school community demonstrate respectful relationships towards children and families. All adults are sensitive to individual circumstances and provide a tailored response to individual children's needs and targets, to ensure that each child experiences success alongside their peers through having their individual needs effectively met.
Parents are very much partners in their child's learning and development, they are actively engaged in identifying their child's needs and planning the appropriate experiences and support for their child.
There is an identified SEND Lead Practitioner at Haytor View – Abi Shopland, who works with the SENDCo – Katy Galling. All staff are engaged in relevant staff training in order to develop appropriate practice to support individual children, additional advice is accessed through specific support networks within the Local Authority.
Phase Leaders take day-to-day responsibility for the operation of the SEND policy and co-ordinates the provision for individual children, working closely with staff, parents/carers and external agencies. Working with Phase Leaders the SEND Lead Practitioner and SENDCo provides relevant professional guidance to colleagues with the aim of securing high-quality teaching for children with special educational needs.
Through analysis and assessment of children's needs, and by monitoring the quality of teaching and standards of pupils' achievements and setting targets, the Phase Leader develops effective ways of overcoming barriers to learning and sustaining effective teaching within their phase.
Our policies for children with Special Educational Needs and Disabilities and those who are Able, Gifted and Talented identify clear principles and procedures paying regard to statutory guidance, which are reviewed annually.
Visit Devon County Council Local Offer for more information about Devon's support for children with SEND.